ASIA-PACIFIC REGION ORCHESTRAS
---
---
ASIA-PACIFIC REGION ORCHESTRAS SUMMIT in Japan 2016
"Beyond the Mission"
Held in conjunction with Asia Orchestra Week 2016
October 5-7, 2016


Tokyo Opera City Recital Hall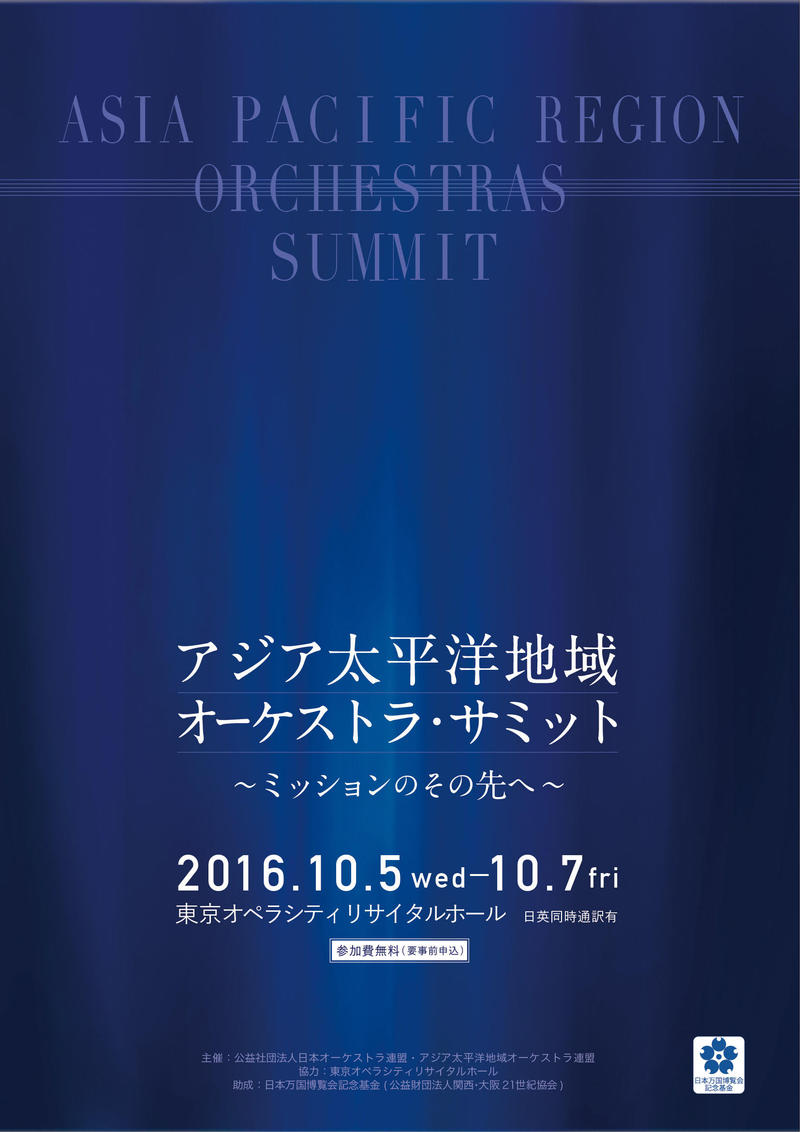 Application form here
APRO Summit Invitation letter from Yukiharu Kodama, chairman of AAPRO.pdf
Oct. 5th (Wed)
14:00 - 18:00 Opening SESSION: "Orchestras in Asia-Pacific region"
Symphony Services international -Australia
China National Symphony Orchestra
Hong Kong Sinfonietta
Almaty Symphony Orchestra
Gwanju Symphony Orchestra - South Korea
Manila Philharmonic Orchestra
Bangkok Symphony Orchestra Foundation
Tokyo Symphony Orchestra
19:00 Concert at Tokyo Opera City Concert Hall
The Sponsored Performance at the Heisei 28(71th) National Arts Festival, Agency for Cultural Affairs
Asia Orchestra Week 2016
Central Aichi Symphony Orchestra, Japan
Cond. Ichiro Saito
Isang Yun: Tapis (version for string orchestra)
Yasushi Akutagawa: Trinita Simphonika
Rimsky-Korsakov: Scheherazade
Oct. 6th (Thu)
10:00 - 11:30 SESSION 1
Roles of Asian orchestras during and after the Olympic/Paralympic Games
Panelists:
Mark Pemberton, Director, Association of British Orchestras
Tetsuki Kunishio, Director of Artistic Planning, Tokyo Metropolitan Symphony Orchestra
13:30 - 17:30 Symposium: Getting Connected to the World through
Performing Arts : Case Studies of Asian orchestras as Performing Arts
Cooperation and Exchange Programme: A Project Commissioned by the Agency for Cultural Affairs for Up-and-Coming Artists Creating Culture for the Next Generation
Case Studies
1. Ho Chi Minh City Ballet Symphony Orchestra and Opera
Mr. Tran Vuong Thach, Conductor - Meritorious Artist, Director,
Mr. Nguyen Manh Duy Linh, Performing Arts Department Manager
2. Myanmar National Symphony Orchestra
Mr. Toe Kyaw, Director of Music Department, MRTV, Director,
Mr. Win Min Phyo Ko, Staff Officer, International Relations
Panel Discussions
Mr. Oh, Pyeong Kwon, CEO, Daejeon Arts Center
Mr. Saneyuki Yoshii, Managing Director, Association of Japanese Symphony Orchestras
Mr.Yunosuke Yamamoto, Conductor, Cellist,
Ms. Kyoko Koyama, Pianist
Facilitator:Ms.Mari Ohashi, Music journalist
* Hosted by the Agency for Cultural Affairs, Japan Council of Performers Rights & Performing Arts Organizations with the cooperation of Association of
Japanese Symphony Orchestras
19:00 Concert at Tokyo Opera City Concert Hall
The Sponsored Performance at the Heisei 28(71th) National Arts Festival, Agency for Cultural Affairs
Asia Orchestra Week 2016
Bankgkok Symphony Orchestra, Thailand
Cond. Michel Tilkin
Beethoven: Coriolan Overture op.62
Haydn: Sinfonia Concertante op. 84
Dvorak: Symphony No.8
Oct. 7th (Fri)
10:00 - 11:30 SESSION 2
Support for orchestras
Daejeon Philharmonic Orchestra-South Korea
Osaka Philharmonic Orchestra-Japan

11:50 - 13:00 SESSION 3
Orchestras in Japan and China, Present and Future
China National Symphony Orchestra
Guangzhou Symphony Orchestra
Shanghai Philharmonic Orchestra
Yomiuri Nippon Symphony Orchestra

14:30 - 15:30 SESSION 4
Development and future in the Asia-Pacific region
15:50 - 17:30 SESSION 5
Musical instruments in Asia/Pacific Region, Availability and Repair
19:00 Concert at Tokyo Opera City Concert Hall
The Sponsored Performance at the Heisei 28(71th) National Arts Festival, Agency for Cultural Affairs
Asia Orchestra Week 2016
Changwon Philharmonic Orchestra, South Korea
Cond. Park Taeyong
Vn. Bomsori Kim
A. Borodin: In the Steppes of Central Asia
Mendelssohn: Violin Concerto in E minor, op. 64
Tchaikovsky: Symphony No.6 in B minor op.74 "Pathetique"
*Orchestra Summit is hosted by Association of Japanese Symphony Orchestras and supported by the Japan World Exposition 1970 Commemorative Fund.
*Asia Orchestra Week 2016 is sponsored by the 71st National Arts Festival, Agency for Cultural Affairs
<History of AAPRO>
November 1977, Tokyo
Orchestra Summit in Japan
・Asian Orchestra Meeting
・Asian Orchestra and International Alliance of Orchestra Associations Meeting
・Concert of Japanese Contemporary Works
"Music Beam from Japan"
・Symposium
"The Orchestra in the 21st Century"
60 participants from 20 countries and regions
As a result of this Summit, an alliance was formed.

October 1999, Tokyo
Orchestra Summit Ⅱ
60 participants from 18 countries and regions
AAPRO was established.
Chairperson: Mr. Naomoto Okayama, Association of Japanese Symphony Orchestras (AJSO)
Vice Chairperson: Mr. Kang Suk-Heung, KBS Symphony Orchestra
Secretary General: Ms. Mary Valentine, Sydney Symphony Orchestra

September 2001, Sydney
Orchestra Summit Ⅲ
Host orchestra: Sydney Symphony Orchestra
"The Flourishing of Orchestral Music in our Region"

September 2003, Singapore
Orchestra Summit Ⅳ
Host orchestra: Singapore Symphony Orchestra
"Continuity & Change: The 21st Century Orchestra in the Asia-Pacific"

October 2006, Tokyo
Orchestra Summit Ⅴ
"The Power of Harmony in Asia-Pacific"
88 participants from 15 countries and regions

November 2008, Shanghai
Orchestra Summit Ⅵ
84 participants from 17 countries and regions
AAPRO officers shifted to:
Chairperson: Mme. Guo Shan
Vice Chairperson: Ms. Atchara Tejapaibul
Vice Chairperson: Mr. Masayuki Yamada, AJSO
Honorary Chairperson: Mr. Naomoto Okayama

November 2009, Beijing
The 1st General Committee Meeting

November 2010, New York
Asia Pacific United Orchestra The 1st concert at General assembly Hall, UN

September 2011, Moscow
Orchestra Summit Ⅷ
64 participants from 17 countries and regions
"Share and Prosper: Europe-Asia-Pacific"
The 3rd General Committee Meeting
Secretary General: Ms. Maki Nagura

August 2012
Asia Pacific United Orchestra European Tour

November 2012, Macao
Orchestra Summit Ⅸ
64 participants from 11 countries and regions
"Innovation beyond Borders"

June 2013, Taipei
The 4th General Committee Meeting

September 2013, Mumbai
Orchestra Summit Ⅹ
59 participants from 15 countries and regions
"Hope for the Future"
The 5th General Committee Meeting
Mr.Yukiharu Kodama was elected the Chairperson.

July 2014, Tokyo
The 6th General Committee Meeting
October 5 - 7, 2016, Tokyo Opera City Recital Hall
Orchestra Summit in Japan